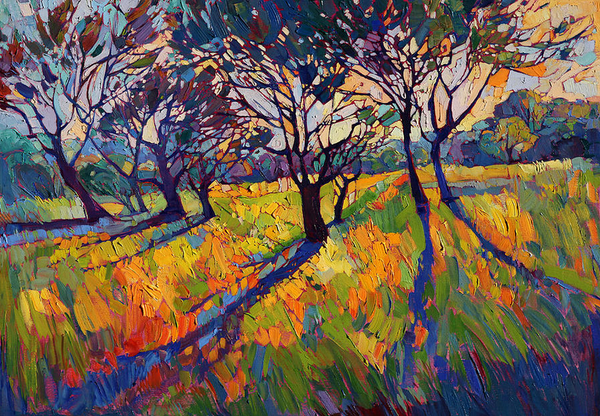 ::
My Comment:
The point that Krishnamurti makes here about what he means by "feeling" is seminal and can open one up to the quality of the "essence" as he often calls it. It is there when there is no 'experiencer'. Enjoy!
::
Krishnamurti's Notebook:
The moon was in the clouds but the mountains and the
dark hills were clear and there was a great stillness about them.
There was a large star just hanging over a wooded hill and the only
noise that came out of the valley was the mounta1n stream as it
rushed over rocks. Everything was asleep save the distant village
but its sound didn't come as high up as this. The noise of the stream
soon faded; it was there but it didn't fill the valley. There was no
breeze and the trees were motionless; there was the light of the pale
moon on the scattered roofs and everything was still, even the pale
shadows.
In the air there was that feeling of unbearable immensity,
intense and insistent. It was not a fanciful imagination; imagination
ceases when there's reality; imagination is dangerous; it has no
validity, only fact has. Fancy and imagination are pleasurable and
deceptive and they must be wholly banished.
Every form of myth, fancy and imagination must be understood and this very
understanding deprives them of their significance. It was there, and
what was started as meditation, ended. Of what significance is
meditation when reality is there! It was not meditation that brought
reality into being, nothing can bring it into being; it was there in
spite of meditation but what was necessary was a very sensitive,
alert brain which had stopped entirely, willingly and easily, its
chatter of reason and non-reason. It had become very quiet, seeing
and listening without interpreting, without classifying; it was quiet
and there was no entity or necessity to make it quiet. The brain was
very still and very alive. That immensity filled the night and there
was bliss.
It had no relationship with anything; it was not trying to shape,
to change, to assert; it had no influence and therefore was
implacable. It was not doing good, not reforming; it was not
becoming respectable and so highly destructive. But it was love,
not the love which society cultivates, a tortured thing. It was the
essence of the movement of life. It was there, implacable,
destructive, with a tenderness that the new alone knows, as the new
leaf of spring, and it will tell you. And there was strength beyond
measure and there was power that only creation has. And all things
were quiet. That one star that was going over the hill was now high
up and it was bright in its solitude.
In the morning, walking in the woods above the stream, with the
sun on every tree, again it was there, that immensity so unexpected,
so still that one walked through it, marvelling. A single leaf was
dancing rhythmically and the rest of the abundant leaves were still.
It was there, that love that's not within the scope of man's longing and measure.
It was there and thought could blow it away and a
feeling could push it away. It was there, never to be conquered,
never to be caught.
The word to feel is misleading; it's more than emotion, than a
sentiment, than an experience, than touch or smell. Though that
word is apt to be misleading, it must be used to communicate and
especially so when we are talking of essence. The feel of essence is
not through the brain nor through some fancy; it's not
experienceable as a shock; above all it's not the word. You cannot
experience it; to experience there must be an experiencer, the
observer. Experiencing, without the experiencer, is quite another matter.
It is in this 'state', in which there is no experiencer, no
observer, that there is that "feeling". It is not intuition, which the
observer interprets or follows, blindly or with reason; it is not the
desire, longing, transformed into intuition or the "voice of God"
evoked by politicians and religio-social reformers. It's necessary to
get away from all this, far away to understand this feeling, this
seeing, this listening. To "feel" demands the austerity of clarity, in
which there is no confusion and conflict. The "feeling" of essence
comes when there is simplicity to pursue to the very end, without
any deviation, sorrow, envy, fear, ambition and so on. This
simplicity is beyond the capacity of the intellect; intellect is
fragmentary. This pursuit is the highest form of simplicity, not the
mendicant's robe or one meal a day. The "feeling" of essence is the
negation of thought and its mechanical capacities, knowledge and
reason. Reason and knowledge are necessary in the operation of
mechanical problems, and all the problems of thought and feeling
are mechanical.
It's this negation of the machinery, whose reaction is thought, that must be denied in the pursuit of the  essence. Destroy [in order to] to go to the very end; destruction is not of the outer things but of the psychological refuges and resistances, the gods and their secret shelters. Without this, there's no journey into that depth whose essence is love, creation and death.
On waking early this morning, the body and the brain lay motionless for there was that power and strength which is a benediction.
The process is gentle.
::
::
::
(source: Krishnamurti's Notebook, PDF p. 67)
::